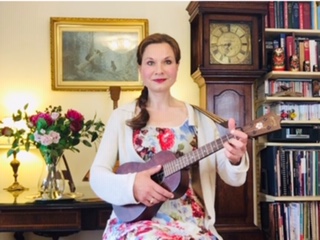 Hello, I am Tatiana Soloviova PhD MMus Dip.ABRSM.
I am Russian by origin and an Oxford UK based singer, music teacher, and therapeutic coach. I have established myself as one of the most sought after singing and music theatre teachers in Oxford. I also teach piano, guitar, ukulele, music theory, as well as regularly performing myself.  
As a life coach I help with public speaking and performance, vocal image, deportment, relaxation, balance and wellness skills. I often use singing and music as a therapy.


This course covers both singing and ukulele, a "2 in 1" course designed by a professional teacher and performer for absolute beginners who would love to sing and to accompany themselves on a live instrument.
This course includes: 
- comprehensive and thorough introduction to ukulele playing, beginning with tuning and gradually progressing through the essential chords, with clear explanations and helpful hand and finger conditioning exercises; 
- music basics like pulse, rhythm, melody and harmony concepts; 
- the selection of songs includes nursery rhymes, traditional and pop songs - a broad range that will allow students to progress further with ease; 
- information about the medicinal nature of singing, and the key ingredients of healthy vocal production; 
This course is designed with love to inspire and to encourage. 
If you can walk you can dance, if you can talk you can sing! 
Coaching programmes with Tatiana
Public Speaking and Performance
Vocal Image Making